PAPR Series
Introducing Swiss Air, the revolutionary TH3 PAPR system from optrel. The optrel Swiss Air respiratory protection system is independent of the helmet or other equipment used and is therefore the most versatile optrel respiratory protection system available. It can also be used with a construction/industrial helmet, weldCap® or without a helmet at all. Take a deep breath, safety never felt so comfortable.
Features
HEPA 99.8%
High-efficiency particulate air filter removing 99.8% of any airborne particles.

Adjustable Air Flow (100-130)
Adjustable air flow levels, 100 – 130 l/min

14 Hour Battery Power
Suited for long work assignments with 14 hours of battery power

Altitude Compensation
Features automatic altitude compensation

Temperature Compensation
Features automatic temperature compensation

Breath-Supporting
Breath-supportive positive pressure principle

No Mask Fit Test Required
High-tech fabric and freely adjustable headband eliminates the need for fit tests
Specifications
Type
swiss air PAPR system, battery powered
Protection Levels
TH3 (EN12941)
Blower Unit
Flow Rates
level 1: min. 100 l/min
level 2: min. 115 l/min
level 3: min. 130 l/min
All levels with automatic air flow control (levels are set directly on the fan and can be continuously adjusted via the control panel at the front).
Fan
High-quality ball beared motor
Alarm
optical (with swiss air Control Panel) and audible alarm for low / very low battery, clogged filter, no filter, and low flow
Low battery: alarm period: 3.0s (1.5s on, 1.5s off)
Filter: alarm period 0.5s (0.25s on, 0.25s off)
Dimensions (L x W x H)
250 x 170 x 50 mm
Weight
1200 g / 42,15 oz (incl. filter, belt and battery)
Half-Mask
Material
Ripstop textile (98% polyester and 2% polyurethanes
Inlay: Polyurethane foam
Valves
2 exhalation valves with silicone membrane
Headband / Neck Band
Material
Neoprene / elastic
Filter Unit
Type
TH3P R SL filter for TH3P System (EU) with pre-filter
Hose
Length
180 mm (elastic, up to 355 mm excl. Y-hose)
Battery Pack
Type
Li-Ione, rechargeable, 3,6 V / 6,5 Ah / 23.4Wh
Operating time
level 1: 14h
level 2: 12h
level 3: 8h
(with new filter at room temperature)
Type
Li-Ione, rechargeable, 3,6 V / 6,5 Ah / 23.4Wh
Sleep mode
after 3 hours, activation by pressing once, start at second press
Certificates
Standards
EN 12941
Europe: TH3
Australia: P3
AS/NZS 1716
EAC TP TC 019/2011
Scope of Delivery
Blower unit with hose, half-mask, TH3P R SL filter, battery, harness, charger, charging cable user instructions
Warranty
2 years from date of sales for manufacturing and material defects, no warranty for battery
Note
The optrel SWISS AIR respiratory system may NOT be used in environments where there is an immediate danger to health or life (IDLH), in atmospheres containing less than 17% (Europe) oxygen or where the concentration of toxins is so high that a protection class in excess of TH2 (EU) is required. It is NOT evaluated as an ignition source in flammable or explosive atmospheres.
Documents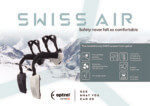 Product Brochure (Swiss Air)
View / Download
Got a question?
---
Does the 4700.010 package contain a battery, and battery charger. Does it come with extra filters?
Thank you
Hi Rick,
The Swiss Air 4700.010 contains the blower unit, chest mounted remote, one filter, one pre-filter, spark protector, air hose, battery, battery charger Optrel back pack and the owners manual. There are no extra filters included.