Y-Series
The optrel Neo p550 combines the advantages of the proven p550 helmet shell with the newest ADF technology from optrel. Experience true color vision in a mid-price helmet. This helmet includes an efficient energy concept that keeps it action-ready for 3,000 hours, and a reaction time of only 0.1 ms after striking a welding arc. Perfect protection and comfort for your eyes!
Features
True-Color View
Like looking through a glass window
Delay Function
Sensitivity Regulation
Adapts the helmet to your environment and requirements
Patented Excenter
Positions the helmet optimally on your head – with just one twist
Comfort Headband
Guarantees optimal weight distribution and is easy on the neck
Lightweight
Lightweight design for maximum comfort
Warranty Extension
Specifications
Shade levels
Inactive: Shade level 4, Active: Shade level 9-13
Power supply
Solar cells, 2 pcs batteries 3V exchangeable (CR2032)
Battery life
Approx. 3,000 hours (operating)
Sensitivity
Continuously adjustable, new with "Super High" sensitivity
Switching time
Light to Dark: 0.100ms at room temp, 0.100ms at 55°C
Dark to Light: 0.05 s to 1.0 s
Field of View
50 x 100mm
90 x 110 x 9.5mm
Classification EN379
Optical Class: 1
Stray Light Class: 1
Homogeneity Class: 1
Angle Dependency Class: 2
Shape Stability
Protective Welding Mask: up to 220°C
Front Lens: Up to 137°C
Eye Protection
Ultraviolet / Infrared Protection: Maximum protection in the entire protection level range
Operating Temperature
-10°C to + 70°C / 14°F to 158°F
Storage Temperature
-20°C to +70°C / -4°F to 176°F
Total Weight
495g / 17.4oz
Scope of Delivery
Welding helmet, Operating Instructions, Batteries
Guarantee
2 years with additional 1 year warranty extension (excluding battery)
Documents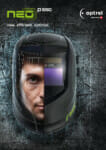 User Manual (Neo p550)
View / Download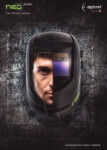 Product Brochure (Neo p550)
View / Download
Got a question?
---
Hi
Will the 5000.052 lens for sphere series helmets fit the y series neo p550 helmet and if so how.
Thanks