Weldcap Series
The weldcap® – an automatic welding cap, that combines the comforts of a leisure hat with the advantages of a full welding helmet. Predestined for users whose area of ​​responsibility includes not only welding but also other metalworking tasks. You are performing changing working steps where the welding protection must be quickly put on and taken off? Then you will be enthusiastic about our weldcap® line. Now available in a new extended version: the optrel weldcap® bump RCB 3/9-12, new with integriated bump cap according to EN812/A1. The easy to remove textile part is made from washable and non-flammable material. You can buy it separately, which means you can turn any existing weldcap® into a weldcap® bump and vice-versa.
Features

ShadeTronic®
Automatically adapts to changing light conditions of the welding arc
Grinding Mode
The brightest vision during grinding work ever to be offered by a welding helmet
Lightweight
Lightweight design for maximum comfort
Warranty Extension
Specification
Power supply
2 pcs LI-batteries 3V exchangeable (CR2032)
No need to switch on-off.
Viewing area
Viewing angle downwards: +37°
Viewing angle sidewards: +25°
Sensors
Wide angle detection sensor
Light transmittance
Ultraviolet/infrared protection (maximum at any shade setting)
Visible range activated shade level DIN 9-12
Visible range not activated shade level DIN 3
Switching time
Light to dark at room temperature: 0.16 ms
Light to dark at 55°C / 131°F: 0.110 ms
Classification EN 379
1/1/2/2
Classification EN 175
F (45m/s impact resistance)
Shape Stability
Welding mask up to 180°C / 356°F
Front cover lens up to 135°C / 275°F
Grinding Mode
Shade level DIN 3
Material
Rigid plastic face shield and flame retardent textile according to EN ISO 11611 (Class 1, A1+ A2)
Operation Temperature
-10°C to +60°C / 14°F to 158°F
Storage Temperature
-20°C to +80°C / -4°F to 176°F
Weight Helmet cpl.
approx. 400g
Warranty
2 years (excluding textile cap and battery)
Documents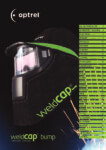 User Manual (Weldcap Bump)
View / Download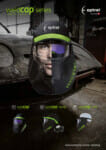 Product Brochure (Weldcap Series)
View / Download
Got a question?
---
Looking for magnifying lens for the Weldcap 1008.001 . I wear reading glasses. Thank you