Panoramaxx Series
The Panoramaxx Quattro is a heavy-duty welding helmet for extreme use. It has a panoramic field of vision that always offers optimum protection even at difficult viewing angles. Its extremely good visibility is confirmed by the classification 1/1/1/1 according to DIN EN 379.
Features
True-Color View
Like looking through a glass window
FadeTronic®
Opening of the anti-glare display can be continuously adjusted after welding to significantly reduce eye fatigue

ShadeTronic®
Automatically adapts to changing light conditions of the welding arc
Delay Function
Sensitivity Regulation
Adapts the helmet to your environment and requirements

5-Point Detection
intelligent five-sensor control to adjust shade levels even in the most difficult lighting conditions
Grinding Mode
The brightest vision during grinding work ever to be offered by a welding helmet
Overhead Welding

Re-Charge
Lithium-polymer battery is recharged either by light or directly with a USB charger
Warranty Extension
Specifications
Shade Levels
ShadeTronic Inactive:: Shade level 3.0
Active, Manual: Shade level 8-13
ShadeTronic 4-13 with individual calibration option ± 2
Energy Supply
Solar cells, Li-polymer battery pack, chargeable via Micro-USB
Battery Life
300 to 500 charging cycles
Sensitivity
Continuously, new with "Super High" sensitivity
Switching time
Light to Dark: 0.090ms at 20°C, 0.070ms at 55°C
Dark to Light: 0.1 s to 2.0 s (with FadeTronic)
Field of Vision
2.3 to 6.3 times bigger than a 100 x 50 mm standard ADF
Classification EN379
1/1/1/1
Shape Stability
Mask: up to 220°C
Front cover lens: up to 137°C
Dimensional Stability
Protective Welding Mask: up to 220°C
Front Lens: Up to 137°C
Eye Protection
UV/IR protection: maximum protection at all shade levels
Operating Temperature
-10°C to +55°C / 14°F to 131°F
Storage Temperature
-20°C to +70°C / -4°F to 158°F
Total Weight
575g / 20.3oz (PAPR 745g)
Scope of Delivery
Welding helmet, Optrel IsoFit® Headgear, Operating Instructions, Storage Bag, Micro USB Charging Cable, Front Cover Lens, Warranty Card
Guarantee
2 years with additional 1 year warranty extension (excluding battery) if the product is registered within the first 6 months:
click here to register
Documents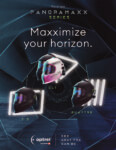 Product Brochure (Panoramaxx Series)
View / Download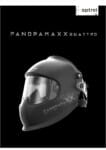 User Manual (Panoramaxx Quattro)
View / Download
Got a question?
---
Why don't you make this helmet with the CLT LENS. Why does the CLT LENS only go to shade 12. Lincoln electric hoods have a clear lens technology and they are 1/1/1/1 and go to shade 13. I just don't get it. You need to make an end all be all helmet. CLT LENS TRUE VIEW AND GO TO SHADE 13 then I will buy one of these helmets. But for $709 that's not a good deal. I can buy 3 Lincoln's for that price.
CLT (crystal lens technology) and "clear lens technology" are not the same thing. Our CLT is like nothing else on the market in terms of clarity and the color spectrum which can be seen while in use. The CLT hood has a light state of 2 which is the brightest on the market today but with that we can only go up to a shade 12 at this time. We offer a true color grey inside cover lens that adds 1 shade level to the CLT hood. Instead of a shade range of 2-12 it becomes a shade 3-13. The quattro will give you a true color lens with the 1/1/1/1 which appears to be what you are looking for. In terms of cost we manufacture all our hoods ourselves in Switzerland with the highest quality materials possible and unmatched quality control. The hood you mention is made in China by a third party supplier so I cannot speak to their quality control process.
Hello,
I already own a Panoramaxx Quattro welding helmet and would like to see if an accessory exists that would allow me to modify the mask use a e3000x PAPR system?
will this hood work with prescription glasses , with the lens so close to your eyes ?