Weldcap Series
The Optrel® Weldcap® offers the protection of an auto-darkening welding helmet with a lightweight, flame-retardant baseball cap. The Weldcap lens has a single, wide-angle sensor, operable in variable shades 9 to 12 or shade 3 grind mode. The nose cutout design provides a field of vision up to 270% greater than a standard 2 1/2 x 4 1/4 inch welding lens. Manufacturer's two-year warranty on the auto-dark lens assembly.
Features

ShadeTronic®
Automatically adapts to changing light conditions of the welding arc
Grinding Mode
The brightest vision during grinding work ever to be offered by a welding helmet
Lightweight
Lightweight design for maximum comfort
Warranty Extension
Specification
Power supply
2 pcs LI-batteries 3V exchangeable (CR2032)
No need to switch on-off.
Viewing area
Viewing angle downwards: +37°
Viewing angle sidewards: +25°
Sensors
Wide angle detection sensor
Light transmittance
Ultraviolet/infrared protection (maximum at any shade setting)
Visible range activated shade level DIN 9-12
Visible range not activated shade level DIN 3
Switching time
Light to dark at room temperature: 0.16 ms
Light to dark at 55°C / 131°F: 0.110 ms
Classification EN 379
1/1/2/2
Classification EN 175
F (45m/s impact resistance)
Shape Stability
Welding mask up to 180°C / 356°F
Front cover lens up to 135°C / 275°F
Grinding Mode
Shade level DIN 3
Material
Rigid plastic face shield and flame retardent textile according to EN ISO 11611 (Class 1, A1+ A2)
Operation Temperature
-10°C to +60°C / 14°F to 158°F
Storage Temperature
-20°C to +80°C / -4°F to 176°F
Weight Helmet cpl.
approx. 400g
Warranty
2 years (excluding textile cap and battery)
Documents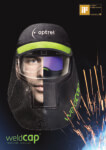 User Manual (Weldcap)
View / Download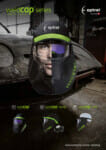 Product Brochure (Weldcap Series)
View / Download