Panoramaxx Series
Welcome to the big leagues of auto darkening welding helmets. The Panoramaxx 2.5 combines an enormous field of vision with Optrel's well-known 2.5 technology and offers excellent visibility in every working situation – whether for industrial grinding, cutting, welding or straightening work. Whatever you want, the Optrel Panoramaxx 2.5 automatically adjusts to your versatile field of activity. The perfect introduction to the Panoramaxx series of auto-darkening welding helmets.
Features
True-Color View
Like looking through a glass window
FadeTronic®
Opening of the anti-glare display can be continuously adjusted after welding to significantly reduce eye fatigue

ShadeTronic®
Automatically adapts to changing light conditions of the welding arc
Delay Function

5-Point Detection
intelligent five-sensor control to adjust shade levels even in the most difficult lighting conditions
Grinding Mode
The brightest vision during grinding work ever to be offered by a welding helmet
Overhead Welding
Sensitivity Regulation
Adapts the helmet to your environment and requirements

Re-Charge
Lithium-polymer battery is recharged either by light or directly with a USB charger
Warranty Extension
Specifications
Shade Levels
ShadeTronic Inactive:: Shade level 2.5
Active, Manual: Shade level 7-12
ShadeTronic 4-12 with individual calibration option ± 2
Energy Supply
Solar cells, Li-polymer battery pack, chargeable via Micro-USB
Battery Life
300 to 500 charging cycles
Sensitivity
Continuously, new with "Super High" sensitivity
Switching time
Light to Dark: 0.090ms at 20°C, 0.070ms at 55°C
Dark to Light: 0.1s to 2.0s (with FadeTronic)
Field of Vision
2.3 to 6.3 times bigger than a 100 x 50 mm standard ADF
Classification EN379
1/1/1/2
Eye Protection
UV/IR protection: maximum protection at all shade levels
Operating Temperature
-10°C to +55°C / 14°F to 131°F
Storage Temperature
-20°C to +70°C / -4°F to 158°F
Total Weight
575g / 20.3oz (PAPR 745g)
Scope of Delivery
Welding helmet, Optrel IsoFit® Headgear, Operating Instructions, Storage Bag, Micro USB Charging Cable, Front Cover Lens, Warranty Card
Guarantee
2 years with additional 1 year warranty extension (excluding battery) if the product is registered within the first 6 months:
click here to register
Documents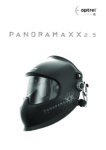 User Manual (Panoramaxx 2.5)
View / Download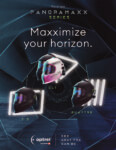 Product Brochure (Panoramaxx Series)
View / Download
Got a question?
---
What's the main difference(s) between this helmet and the newer version with the crystal lens? Any gained and/or lost advantages.
I need readers to see up close . Do you reader lenses ? Can glasses be worn under the mask?
We do offer magnification lenses for the Panoramaxx series hoods. From the product page (https://optrel.us/product/panoramaxx-2-5/) just scroll down and you will find all the spare parts, including magnification lenses. From there just choose the magnification level you need. Reading glasses will work as well but depending on the size of the glasses you may need to telescope the headgear a bit further from your eyes.
What comes with this helmet? I can't seem to find that out. Extra lenses? Sweat bands? Does it only come with a charger CABLE? Is the nose pad included?
If I already own this helmet, is it possible to upgrade the lens to the newer clt style, without purchasing a brand new hood?
I have not had the opportunity to see one of these in person. Are there photos of the inside of the hood? It looks like the shape would put ones nose and mouth in front of the lens… does this help with fogging?
How long do I charge it to last the full 6months