PAPR Series
With light transmission of 31% in bright condition (protection level 2!) welders have for the first time a practically unclouded and clear view of their working environment. This in combination with the almost perfect color spectrum of the CLT2.0 for the first time allows welders to see what is really going on in the weld pool, and with a clarity that equates to insights into a new dimension. This is why welders describe this as an enlightenment.
Features
Respiratory Protection
Crystal Lens Technology 2.0
Now you can clearly see what happens before, during and after welding
FadeTronic®
Opening of the anti-glare display can be continuously adjusted after welding to significantly reduce eye fatigue

ShadeTronic®
Automatically adapts to changing light conditions of the welding arc
True-Color View
Like looking through a glass window
Grinding Mode
The brightest vision during grinding work ever to be offered by a welding helmet
Overhead Welding
External Operability
Toggle grind mode and shade level adjustments without removing your helmet
Patented Excenter
Positions the helmet optimally on your head – with just one twist
Comfort Headband
Guarantees optimal weight distribution and is easy on the neck
Hard Hat Adapter
Compatible with industrial construction helmet adapter accessory
Sensitivity Regulation
Adapts the helmet to your environment and requirements
Warranty Extension
Specification
Shade levels
Inactive: Shade level 2.0
Active, Manual: Shade level 4-12
Autopilot
Automatic protection level regulation across a range from 4-12 with individual calibration option of ± 2
Power supply
Solar cells, 2 lithium batteries (CR2032)
Sensitivity
Infinitely adjustable, now with "Super High" sensitivity
Switching time
Bright to dark: 0.100 ms at room temperature, 0.070 ms at 55°C
Dark to bright: 0.1 s to 2.0 s (with dimming function)
Classification EN379
Optical Class: 1
Stray Light Class: 1
Homogeneity Class: 1
Angle Dependency Class: 2
Shape Stability
Welding mask: up to 220 °C / 428 °F
Front cover lens: up to 137 °C / 279 °F
Eye Protection
Ultraviolet / Infrared Protection: Maximum protection in the entire protection level range
Operating Temperature
-10°C to +70°C / 14°F to 158°F
Storage Temperature
-20°C to +80°C / -4°F to 176°F
Total Weight
460g / 18.7oz
Scope of Delivery
Welding helmet, manual
Warranty
2 years with additional 1 year warranty extension (excluding battery) if the product is registered within the first 6 months:
click here to register
Documents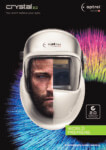 Product Brochure (Crystal 2.0)
View / Download
Got a question?
---
Hello, will the sphere series inside lens cover fit the crystal 2.0 papr? Thanks