PAPR Series
World record ADF with shade level 2.5 / 8–12: The Optrel Vegaview 2.5 lets the welders' most desired wish come true: bright view. With its unrivaled brightest ADF view with shade level 2.5, Vegaview 2.5 improves the visibility of welders' environment by 400%! Compared with traditional autodarkening welding helmets, Vegaview 2.5 sets the world record in the light state! Thanks to a special UV/IR filter, the Vegaview 2.5 offers a real color experience never seen before and finally brings color into the world of welding. Weighting only 482 g (17 oz), the Optrel Vegaview 2.5 is one of the lightest auto­darkening welding helmets available. Its ergonomic design minimizes strain on the head and neck, ensuring comfort throughout the work day. The Optrel Vegaview 2.5 is perfectly combined with the Optrel e3000 PAPR respiratory system. With its integrated high-performance particle filter (TH3), welders are adequately protected against smoke, aerosols, and dust.
Features
Respiratory Protection

ShadeTronic®
Automatically adapts to changing light conditions of the welding arc
True-Color View
Like looking through a glass window
Delay Function
Grinding Mode
The brightest vision during grinding work ever to be offered by a welding helmet
Overhead Welding
Patented Excenter
Positions the helmet optimally on your head – with just one twist
Sensitivity Regulation
Adapts the helmet to your environment and requirements
Hard Hat Adapter
Compatible with industrial construction helmet adapter accessory
Warranty Extension
External Operability
Toggle grind mode and shade level adjustments without removing your helmet
Specification
Light transmittance
Ultraviolet-/infrared protection (maximum at any shade setting)
Infinite exterior shade level setting
Visible range activated: shade level 8 – 12
Visible range not activated: shade level 2.5
Power supply
2 pcs batteries 3V exchangeable (CR2032)
Operating time batteries
Approx. 3000 hours (operating)
Sensors
3 sensors, variable detection angle with movable sensor slider
Switching time
Light to dark: 0.100 ms at room temperature
0.070 ms at 55°C / 131°F
Dark to light: from 0.05 s to 1.0 s adjustable
Classification
Optical class: 1
Scattered light: 1
Homogeneity: 1
Angular dependence:2
Shape stability
Welding mask: up to 220°C / 428°F
Front cover lens: up to 137°C / 279°F
Protection for ADF
Reflection free front cover lens and inside cover lens
Operating temperature
-10°C to +70°C / 14°F to 158°F
Storage temperature
-20°C to +80°C / -4°F to 176°F
Weight
Welding helmet: 482 g, 17.002 oz
Scope of delivery
Welding helmet, instruction manual, storage bag, batteries, warranty card and one front cover lense
Warranty
2 years with additional 1 year warranty extension (excluding battery) if the product is registered within the first 6 months:
click here to register
Documents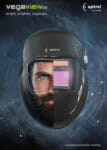 Product Brochure (Vegaview 2.5)
View / Download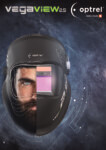 User Manual (Vegaview 2.5)
View / Download
Got a question?
---
is the PAPR system included with this product or is this the helmet component only?