optrel e3000x PAPR Case Study
Leading 

Manufacturer

 

Gives

 a Breath of

 Fresh 

Air to 

Welders

:
Chief Industries, a family-owned manufacturer, switched to optrel's e3000X PAPR system from a competitor's PAPR. The significant investment in optrel's highly innovative solution positioned their company to be more cost–effective and provide their employees with the level of safety they deserve.
An
Under
–
Performing
 PAPR
:
Chief Industries was using a powered air–purifying respirator (PAPR) solution. However, the PAPR caused them significant trouble. The manufacturer's PAPR came with a hefty price tag, was often understocked or unavailable, and was too heavy to wear all day while welding, which affected overall employee morale and health. With the health of their welders at the forefront of their minds, Chief Industries decided a change was needed.  
Chief Industries needed to protect the lungs of their welders and supply them with fresh air for a safe work environment. They needed a PAPR that could stand up to 8 – 10 hours a day of air laden with welding fumes and grinding dust. Additionally, they needed a PAPR unit to be lightweight, comfortable, readily available, withstand their harsh work environment, and be cost effective.  
The 

optrel

 

Solution
The family-owned corporation went directly to their local welding distributer and worked towards finding the best solution for their needs. "The distributor carrying optrel brought the e3000X PAPR system to us and let us try it out in our normal day-to-day workflow," said Tony Hermanson, Tool Crib Buyer for Chief Industries.   
During the trial period their workers were able to test all the industry leading features that the optrel x3000x has to offer such as: 
Th

e h

ighest safety class (TH3) respiratory protection

,

 which is 99.98% 

efficient

 

Protect

ion

 from smoke, aerosols, and dust

 

Integrated, automatic air flow control and calibration

 
The standout features that turned the trial into a purchase were the adaptive qualities in the optrel product. With up to 12 hours of battery life the e3000X shows you the battery charge level at the touch of a button. Also, as soon as the filter in the respective air flow level is saturated, welders receive an audible and visual alarm, and the e3000X's intelligent alarm function automatically switches to the next lowest air flow stage – without having to interrupt the work process.  
Additionally, the welders of Chief Industries didn't want to sacrifice hood performance. They were able to test the Crystal 2.0 PAPR system which combines the e3000x PAPR with the optrel Crystal 2.0 hood. 
The 

Proven 

Results

:
The global corporation featuring 7 brands that comprises Chief Industries made an initial investment to the health of their welders with 50+ optrel e3000X PAPR systems with Crystal 2.0 hoods. That investment is still ongoing as currently every new employee now receives the most powerful ventilated breathing protection system available on the market. 
When asked if their investment with optrel has proved to be a good one Chief Industries responded,  
"Yes, the indicator on the PAPR unit tells you when to change the filter which results in fewer usable filters being thrown out. Another benefit we did not anticipate is the optical clarity of the crystal lens has led to better welds, less rework and higher productivity".  
The optrel e3000x with crystal hood aids in ticking all the boxes:
Cost effective

 

Superior runtime

 

Comfortable

 

Readily available

 

Field serviceable

 

Best in class protection

 

Made in Switzerland

 

Bonus – superior optics

 
Products and Technology Used

:
Chief Industries paired the optrel e3000X PAPR with the innovative Crystal 2.0 hood. This combination provides the highest safety class (TH3) respiratory protection with the patented optrel Shadetronic technology, CLT 2.0 technology. With light transmission of 31% in bright condition (protection level 2) the welders of Chief Industries has some of the most innovative technology in the welding world protecting their lungs and eyesight.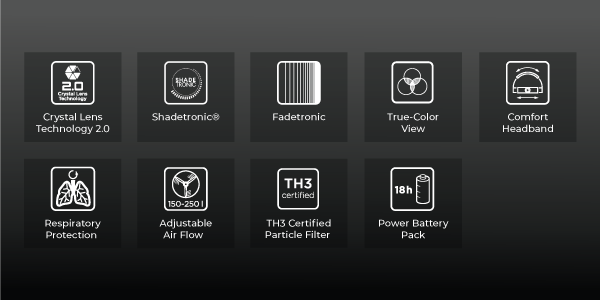 "Optrel is a highly innovative company that puts the welder first when designing their products. Their desire to make the welder's job safer, easier and more productive shine through these innovations and is exactly what we needed". – Tony Hermanson, Tool Crib Buyer for Chief Industries.
About Chief Industries
The quintessential American success story began in 1954 when Virgil Eihusen launched a small construction company — Chief Industries — from a garage in Grand Island, Nebraska. From Virgil Eihusen to his son, Robert, and now to his grandson, DJ as Chairman and CEO, Chief has been guided by strong leaders who maintain a clear focus on its core values – take care of the customer, strengthen the company through diversification, and respect their employees. 
You will find Chief products and services used in agriculture, commercial construction, structural steel, factory-built housing, ethanol production, transportation, and more.