PAPR Series
Panoramaxx CLT PAPR (Black)
The world famous Crystal Lens Technology 2.0 is now also available in the Panoramaxx CLT version. The color perception in the light state comes very close to the view through a clear glass window and in the dark state you get a detailed and high contrast view of the welding pool in a clarity never seen before. Unlock your true potential – with the Panoramaxx CLT.
Features
Respiratory Protection
Crystal Lens Technology 2.0
Now you can clearly see what happens before, during and after welding
True-Color View
Like looking through a glass window
FadeTronic®
Opening of the anti-glare display can be continuously adjusted after welding to significantly reduce eye fatigue

ShadeTronic®
Automatically adapts to changing light conditions of the welding arc
Delay Function

5-Point Detection
intelligent five-sensor control to adjust shade levels even in the most difficult lighting conditions
Sensitivity Regulation
Adapts the helmet to your environment and requirements
Grinding Mode
The brightest vision during grinding work ever to be offered by a welding helmet
Overhead Welding

Re-Charge
Lithium-polymer battery is recharged either by light or directly with a USB charger
Warranty Extension
Specifications
Protection levels
Autopilot Inactive: Protection level 2.0
Active, Manual: Protection level 8-12
Automatic protection level regulation over the protection level range 4 <12M with individual calibration option of ± 2.
Power supply
Solar cells, Li-polymer battery, can be charged via micro USB cable
Battery life
300 to 500 charging cycles
Sensitivity
Infinitely adjustable, new with "Super High" sensitivity
Switching time
Light to Dark: 0.090ms at room temp, 0.070ms at 55°C
Dark to Light: 0.1 s to 2.0 s (with FadeTronic)
Field of View
Depending on the headband setting, 2.3 to 6.3 times the field of view of a 100 x 50mm industry standard anti-glare cassette
Classification EN379
Optical Class: 1
Stray Light Class: 1
Homogeneity Class: 1
Angle Dependency Class: 2
Field of View
Depending on the headband setting, 2.3 to 6.3 times the field of view of a 100 x 50mm industry standard anti-glare cassette
Dimensional Stability
Protective Welding Mask: up to 220°C
Front Lens: Up to 137°C
Eye Protection
Ultraviolet / Infrared Protection: Maximum protection in the entire protection level range
Operating Temperature
-10°C to +55°C / 14°F to 131°F
Storage Temperature
-20°C to +70°C / -4°F to 158°F
Total Weight
600g / 21.2oz (silver 610g / 21.5oz) (PAPR 770g / 780g)
Certifications
CE, ANSI, EAC, AS / NZS, meets CSA Z94.3, additionally with PAPR version EN 12941 (TH3) and for the SuppliedAir version EN14594 (3B)
Meets the pr ISO 16321 standards "WIG +" ("low amp Tig "Procedure)
Scope of Delivery
Welding helmet, Operating Instructions, Storage Bag, Micro USB Charging Cable, Lens, Warranty Card
Guarantee
2 years with additional 1 year warranty extension (excluding battery) if the product is registered within the first 6 months:
click here to register
Documents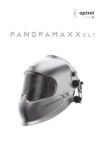 User Manual (Panoramaxx CLT)
View / Download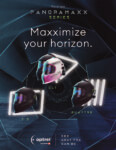 Product Brochure (Panoramaxx Series)
View / Download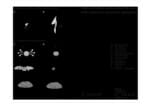 Panoramaxx Additional Information
View / Download
Got a question?
---
can this hood be fitted with the iso fit head gear, since its the papr version.